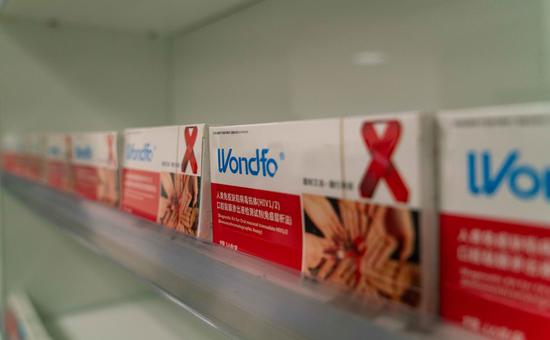 Photo taken on Nov. 27, 2020 shows diagnostic kits for HIV at a pharmacy in Kunming, southwest China's Yunnan Province. (Xinhua/Wang Guansen)
After more than 30 years of fighting against HIV/AIDS, one of China's major anti-AIDS battlegrounds has achieved the UN "90-90-90" targets.
The HIV/AIDS prevention bureau of southwest China's Yunnan Province told Xinhua on Monday that, as of the end of November, Yunnan has attained the goal set by UNAIDS.
The goal consists of meeting three measurable objectives: 90 percent of people living with HIV should know their infection status; 90 percent of those with HIV are receiving sustained antiretroviral therapy; and 90 percent of those receiving such treatment are "virally suppressed," indicating a negligible risk of transmitting HIV sexually.
"Through unremitting efforts, Yunnan has transformed itself from one of the regions hardest hit by HIV/AIDS into a demonstration area of comprehensive prevention and treatment," said Lu Lin, head of the bureau.
THREE-DECADE FIGHT
When Jia Manhong began her job in HIV testing over three decades ago, her family and friends regarded it as "dangerous and unmentionable."
"My mom was so worried about possible infections. Every time I came home from work, she stared at me as I washed my hands and changed clothes," said Jia, 53. She is a senior advisor for the Yunnan provincial anti-AIDS commission and also serves on a disease prevention and control expert advisory committee of the National Health Commission.
Yunnan reported its first HIV infection in 1987 and found clusters of cases in 1989, thus becoming one of the country's main anti-AIDS battlefields. Jia, who had graduated from a medical school by then, joined the anti-virus frontline.
After 30 years of battling HIV, Jia noted a marked improvement in public awareness and the working conditions of medical staff.
"I remember we used to face a high risk of occupational exposure during experiments, and every year, several colleagues had to take HIV-blocking drugs," she said.
Starting from 2005, four rounds of the war against the HIV virus have been launched. "A province-wide prevention network is functioning well. The government-led, multi-sectoral participation model has consolidated and curbed the AIDS epidemic in the province," Lu Lin said.
To boost early detection, Yunnan promotes voluntary counseling and testing (VCT) services in key areas. All rural townships in the province have ample capacity to conduct HIV-testing, Lu said.
From January to October this year, Yunnan registered over 28.2 million tests, up 41.5 percent year on year.
The central government has allocated 690 million yuan (about 105 million U.S. dollars) to Yunnan this year, aiding its anti-AIDS work, said Yang Yan, director of the HIV/AIDS prevention department of the provincial health commission.
"It is convenient for customers to purchase reagents and they can get the results in 20 minutes," said Guan Haibo, a pharmacy manager in the provincial capital Kunming.
"In areas like Zhaotong that send out a lot of migrant workers, we provide testing services to returning workers during the Chinese New Year, in a bid to expand the coverage of testing," Lu said.
NO ONE LEFT BEHIND
In Yunnan, anti-AIDS staff often visit areas with a high rate of HIV infection, publicizing AIDS-prevention knowledge, conducting psychological counseling and providing peer education.
In October 2018, doctor Han Yu was sent to several border counties to guide anti-AIDS work. During her month-long stay, she assisted with the treatment of a four-year-old boy whose father had died of AIDS due to drug abuse.
"The boy lived with his grandma and an uncle who worked far from home. We persuaded his uncle to suspend his work for three months and help the boy take anti-virus medication," said Han.
Although she later left, Han often asks her colleagues to regularly check up on the health status of the boy. "Now his treatment is effective and he has become a first-grade pupil."
Since the outbreak of the COVID-19 epidemic, anti-AIDS staff in Yunnan have been putting even more energy into the battle. Lu said that those who receive COVID-19 tests also receive help in taking HIV tests, with many more diagnosed in time.
The key to Yunnan's success in containing HIV infection is partnerships between different sectors and organizations, according to experts.
Chen Yanlin, 40, has been devoted to AIDS prevention for high-risk groups since 2007. He is the director of the Rainbow Sky Centre of Health Counseling and Service, a local gay-community organization.
Chen said that, over the past 10 years, he has witnessed a transformation in the public's attitude toward AIDS patients. "I went to a meeting many years ago and people were scared of the infected people and wouldn't have meals with them."
But now, with more social organizations involved, the patients are getting support in various ways. Many patients are also willing to become volunteers to help others fight against this common enemy, Chen said.
As an important force in AIDS prevention and control, public welfare organizations can help cover more people, providing new ideas for AIDS prevention, with more diverse strategies applied in a precise way, said Ma Baoli, founder of Danlan Public Interest, a major organization focusing on AIDS prevention based on online communities in China.